Are harmful nematode populations negatively impacting the grapes that you grow? As mentioned in my previous TriClor blog post, nematodes – which are microscopic roundworms found in soil – can cause considerable damage to plant roots, including those of grapevines, which ultimately results in reduced plant vigor and crop yield for the grower. With that said, did you know that there are 6 main genera of plant-parasitic nematodes (PPN) that cause damage to grapevines? These include the Dagger, Root Knot, Citrus, Lesion, Ring, and Stubby Root nematodes. The destruction that nematodes cause may be amplified due to several factors, including the weather conditions, geographic region, and soil status of your vineyard.
Here at the TriCal Nematology research program, it is our primary goal to provide support to growers by shedding light on ways to improve overall soil health and nematode control. We accomplish this primarily through two methods: fumigation treatments and trial research.
By utilizing pre-plant fumigants in a vineyard – such as TriClor (Chloropicrin) and TELONE™ II (1,3-Dichloropropene) – growers can reduce the total parasitic nematode pressure within the soil where the grapes are being planted. This allows the roots of grape vines to establish themselves faster, leading to better vine elongation and fuller foliage of the crop. We are able to test and prove the success of orchard fumigation through our multi-year field trials, which allow our team and partnering growers to evaluate the performance of TriClor and TELONE™ II on key perennial crops like grapes.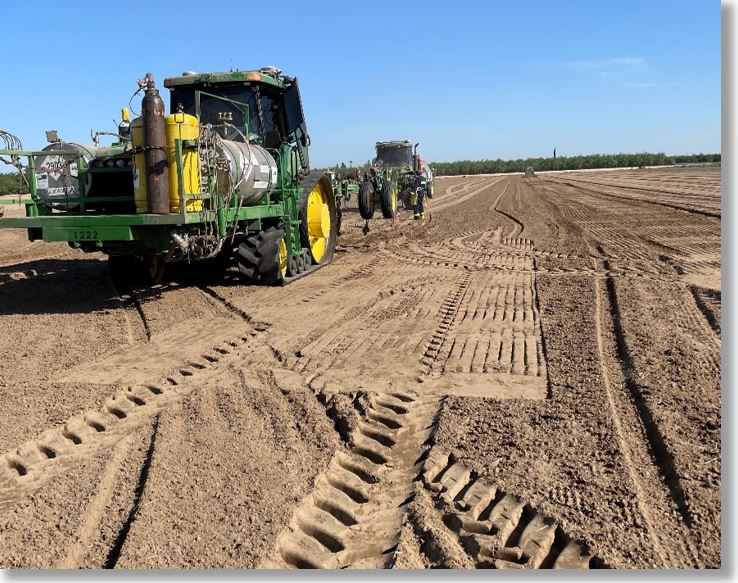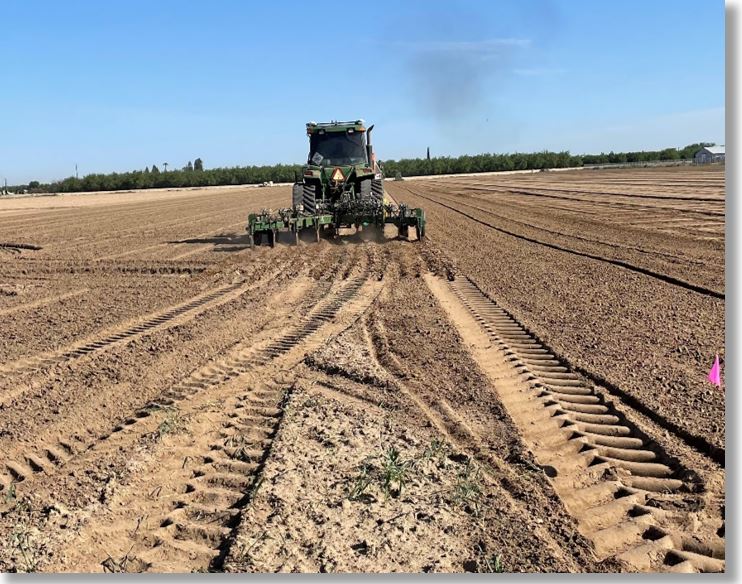 Photos of TriCal fumigation tractors at a treatment site in Modesto, California.
This research is critical to grape growers looking to achieve a successful harvest and high yields. Why, you may ask? The answer is that nematodes are a major economic problem in every grape production region in the world. Plant-parasitic nematodes can cause direct and indirect damage to a grapevine. Directly, their feeding can stop root elongation – eventually killing plant tissue, changing root growth patterns, and removing key plant nutrients that are vital to the success of the vineyard. Indirectly, plant-parasitic nematodes can damage plants by vectoring viruses, such as the Dagger nematode. Additionally, these pests have a high chance of increasing the severity of other plant diseases, such as Pythium, Fusarium, Rhizoctonia, and Phytophthora. While I mentioned the top 6 types of nematodes earlier, overall there are 9-12 species of nematode genera that are commonly associated with grapes, and the majority of them in combination can cause serious damage to grape production and development.
We at TriCal Diagnostics, which is located in Hollister, CA, conduct these trials through rigorous evaluation of PPN testing during both pre and post fumigation. This includes the post planting period throughout several seasons to determine nematicidal efficacy of the fumigants, while simultaneously monitoring details like overall crop growth.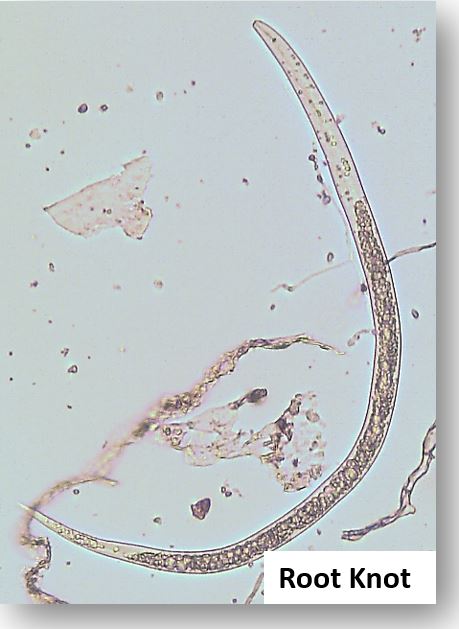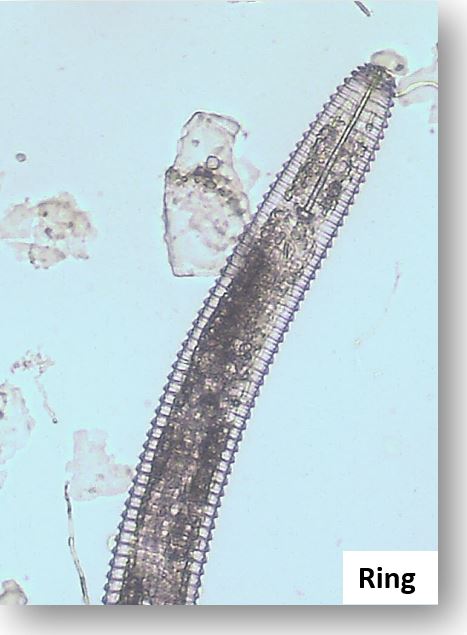 The Root Knot and Ring nematodes are two examples of the plant-parasitic nematodes (PPN) that cause damage to grapevines.
That brings me to our research team's newest update, which comes from the enlightening grape vineyard trial research that is currently being carried out in Modesto, California. We started this multi-year trial almost two years ago with the purpose of examining the benefits of TriClor adoption (3 rates) in grape orchards, in addition to the performance of grower standard TELONE™ II. As part of our soil examinations that occurred during the pre-fumigation period, we uncovered a hefty nematode population that included varieties such as Root Lesion, Ring, Citrus, and Root Knot. The Modesto fumigation began in the Fall of 2019, and ever since then we have been conducting robust soil sampling on an ongoing basis to determine pest ID, nematode pressure, and distribution within the treatment areas. These soil samples are taken throughout the various seasons every calendar year, which allow us to thoroughly examine the soil of each treatment zone at different stages of the year. In my next blog, I will be walking you through the latest results of this Modesto trial to showcase how fumigants perform against nematode populations within grape vineyards. Stay tuned!
---
If you require any further information or have questions about our services, please feel free to send me an email at ksanchez@trical.com.